Widespread Apprehension About the Future: The present is a time of overwhelming interest to all living. Rulers and statesmen, men who occupy positions of trust and authority, thinking men and women of all classes, have their attention fixed upon the events taking place about us. They are watching the relations that exist among the nations. They observe the intensity that is taking possession of every earthly element and they recognize that something great and decisive is about to take place—that the world is on the verge of a stupendous crisis.—Prophets and Kings, 537 (c. 1914). LDE 11 – LDE 11.1
By Nadeen Ebrahim, CNN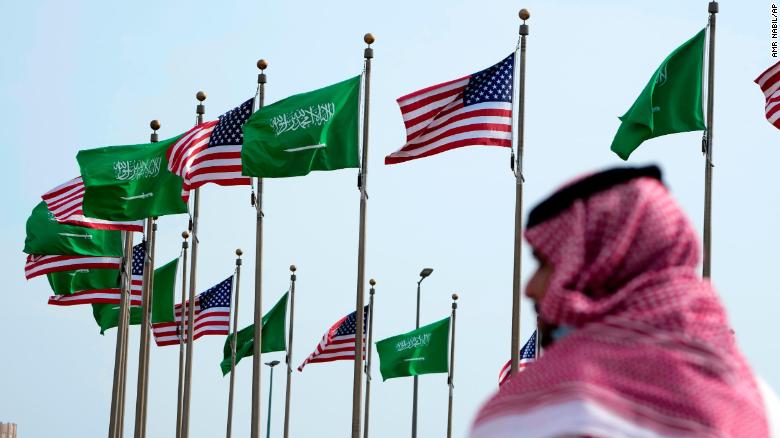 A man stands under American and Saudi Arabian flags prior to a visit by US President Joe Biden, at a square in Jeddah, Saudi Arabia on July 14.
Abu Dhabi (CNN)United States President Joe Biden is on a landmark trip to the Middle East. One country he won't be visiting, however, is dominating the agenda: Iran.
Biden's itinerary includes just two countries, Israel and Saudi Arabia. Those are Tehran's biggest regional foes, and they are coming closer together than ever before.
The visit comes just weeks after Israel said that it was working with regional partners on an air defense alliance that is led by the US. Israel's Defense Minister Benny Gantz told the Knesset, Israel's parliament, that he hopes the program will "take another step forward" during Biden's trip to the region.
The advent of the United States in the Orient will not tend to amity, but rather to animosity. This was cleverly stated by Lord Salisbury, when at the last lord mayor's banquet, he said the "appearance of the United States as a factor in Asiatic affairs is likely to conduce to the interests of Great Britain, but might not conduce to the interests of peace." It can not possibly conduce to the interests of peace, for the very reason that in entering the Orient this nation has deserted her policy of peace, and has adopted in principle, at least, the bellicose spirit; she has now departed from that doctrine of the "father of his country," which, if it never brought to her military glory, most certainly has been the cause of her material greatness. The words in the "Farewell Address" are a pearl of great price. They may be familiar, but they can not too often be recalled:—
"Against the insidious wiles of foreign influence (I conjure you to believe me, fellow citizens) the jealousy of a free people ought to be constantly awake, since history and experience prove that foreign influence is one of the most baneful foes of republican government….
"The great rule of conduct for us in regard to foreign nations is, in extending our commercial relations, to have with them as little political connection as possible. So far as we have already formed engagements, let them be fulfilled with perfect good faith. Here let us stop.
"Europe has a set of primary interests which to us have none or a very remote relation. Hence she must be engaged in frequent controversies, the causes of which are essentially foreign to our concerns. Hence, therefore, it must be unwise in us to implicate ourselves by artificial ties in the ordinary vicissitudes of her politics, or the ordinary combinations or collisions of her friendships or enmities.
"Our detached and distant situation invites and enables us to pursue a very different course. If we remain one people, under an efficient government, the period is not far off when we may defy material injury from external annoyance; when we may take suck an attitude as will cause the neutrality we may at any time resolve upon to be scrupulously respected; when belligerent nations, under the impossibility of making acquisitions upon us, will not lightly hazard the giving us provocation; when we may choose peace or war, as our interests, guided by justice, shall counsel.
"Why forego the advantages of so peculiar a situation? Why quit our own to stand upon foreign ground? Why, by interweaving our destiny with that of any part of Europe, entangle our peace and prosperity in the toils of European ambition, rivalship, interest, humor, or caprice?
"It is our true policy to steer clear of permanent alliances with any portion of the foreign world." PRUS 170.1 – PRUS 171.2
Saudi Arabia has been pressuring the US for security guarantees that would contain Iran should nuclear talks fail. The last round of talks in Doha two weeks ago resulted in a standstill, with the US saying Iran added unrelated demands to the table.
Early on Friday, just hours before Biden was due to touch down in the kingdom, Saudi Arabia moved one step closer to normalizing relations with Iran's arch-enemy Israel by opening its airspace to all airlines. Israeli carriers were previously barred from entering Saudi airspace on most flights.
James Webb Verse King James Telescope, Comforter Biden Testify of Pope Francis Ev King Osiemo
Last month, US lawmakers introduced legislation to create an integrated air defense system to increase cooperation between Israel and its Arab neighbors, including the countries whose leaders Biden will meet in Saudi Arabia this week. The defense system is aimed to protect those states from Iran.
Jordan's King Abdullah, who Biden will meet in Saudi Arabia, said this month he favors joining a "Middle East NATO" with like-minded countries, without specifying which.
Don't expect sword dances when Biden visits Saudi Arabia
Iran sees an Arab-Israeli military plan as a provocative move and a threat against its national security, foreign ministry spokesperson Nasser Kanani was cited saying on Saturday by state news agency IRNA. He accused the US of spreading "Iranophobia" among regional countries, according to IRNA.
The United Arab Emirates, which has been engaging in direct talks with Tehran , said on Friday that it has no interest in joining an anti-Iran alliance.
"We are open to cooperation, but not cooperation targeted at any other country in the region, and I specifically mention Iran," Anwar Gargash, adviser to the UAE president, told CNN's Becky Anderson. The UAE is in the process of sending an ambassador to Tehran, he added.
Some analysts say that if Iran finds itself being ganged up on by its neighbors, it may retaliate.
An Arab-Israeli military alliance is "a terrible idea," said Trita Parsi, vice-president of the Quincy Institute in Washington, DC, "because it cements existing divisions in the region and reduces the likelihood of diplomatic breakthroughs." Such groupings are aimed at organizing the region against a certain state instead of achieving "true peace," Parsi told CNN.
Previous American attempts at isolating Iran at the behest of Israel led Tehran to sabotage the Palestinian-Israeli peace process to undermine Washington's efforts, he said. "If Biden's anti-Iran alliance truly takes hold, it may prompt Iran to go back to its policies of the 1990s when it actively pushed its allies to destabilize parts of the region," he added.
On Thursday, Biden and Israeli Prime Minister Yair Lapid signed a new joint declaration that included a commitment to never allow Iran to acquire a nuclear weapon and to address Iran's "destabilizing activities."
"There is potential that [Biden's] visit could create further tensions," Mohammad Marandi, a professor at the University of Tehran, told CNN.
That prospect hasn't escaped Gulf Arab states, who are wary about getting caught in the line of fire between Iran and the US.
Gargash told CNN that there is a need to de-escalate with Iran. "We have to find solutions, and we have also to use economic cooperation in various areas," he said.
Abdulkhaleq Abdulla, a political science professor in the UAE, told CNN that framing a potential military alliance as regional NATO is "very provocative, and I don't think it is acceptable to whoever is asked to join."
While there is regional consensus that Iran is now more destabilizing than ever, Israel and the Gulf Arab states differ on how to approach the problem, he told CNN.
"The mood in Abu Dhabi and in Riyadh is to talk to Iran rather than provoke Iran," he said. "This is where the Gulf, especially Saudi Arabia and the UAE, differ with Israel."
Biden walks a political and diplomatic tightrope in Saudi Arabia
The claim by the US this week that Iran may be providing drones to Russia may be used by the Biden administration to strengthen the case for a Middle East defense pact against Iran, said Aniseh Bassiri, senior research fellow at the London-based Royal United Services Institute (RUSI).
"The timing of this information [on Iranian drone sales] is interesting," she told CNN's Becky Anderson on Tuesday. "We know that the US, together with Israel, is trying to shape this defense pact, and I think a lot of the focus of this pact is the capability that the countries have when it comes to drones. Whether there is interest in the GCC (Gulf Cooperation Council) countries is another question," she said.
"There is plenty of Israeli propaganda that goes into marketing and promoting such a deal," said Abdulla. "Logistically, it is not very easy to do."
The digest
Majority of Saudi youth see Palestinian cause as a priority, survey finds
Three-quarters of Saudi youth believe addressing the Palestinian-Israeli conflict should be a priority for the Arab world, according to the 13th edition of the Arab Youth Survey. The survey also found that over 90% of Saudi youth, who form nearly two-thirds of the country's population, see the US as an ally.
Background: The findings were announced on Thursday ahead of Biden's trip to Saudi Arabia. The survey comes amid strained US-Saudi ties and an effort by the Biden administration to strengthen relations between Israel and Saudi Arabia.
Why it matters: The survey shows the importance Saudi youth attach to the Palestinian issue as Riyadh moves closer to Israel. It also suggests that despite the tensions between the Biden administration and Saudi Arabia, Saudi youths continue to see the US as an ally.
Netanyahu says Biden agrees a military strike will be necessary if Iran develops nuclear weapons
Israel's former Prime Minister Benjamin Netanyahu on Thursday suggested that President Biden agrees that a military strike on Iran will be needed if Tehran develops nuclear weapons. "I told him that without a credible military option, Iran cannot be stopped, and if Iran is not deterred, this military option will need to be carried out. This is my position. I really hope it is also the American position," said Netanyahu. "He [Biden] said he agrees with these words, and I was glad to hear it," he added.
Background: Netanyahu's claim comes as he tries to make a comeback as prime minister amid a political deadlock in Israel. During his trip to Jerusalem, Biden renewed his pledge to defend Israel against Iran. In an interview with Israel's Channel 12 News on Wednesday, the President was asked if his commitment to ensure Iran never acquired nuclear weapons meant he would use force against Iran. "If that was the last resort, yes," Biden answered.
Why it matters: Israel has been touting a "regional air defense alliance" led by the US, and which would predominantly be aimed at thwarting Iranian drones and missiles. Biden has defended his trip to Middle East, saying regional allies are needed as Iran makes progress in its nuclear program.
White House confirms Biden will meet with MBS without the Saudi king present
The White House on Friday confirmed for the first time that Biden will meet with Saudi Crown Prince Mohammed bin Salman — known as MBS — without his father King Salman present while the US President is in Jeddah.
Background: According to Biden's schedule, the Saudi king will only be present for about 30 minutes during the bilateral meetings Friday night. This is the first time the White House has acknowledged it publicly. Biden and the crown prince will continue their meeting after the king departs.
Why it matters: The meeting would be a turnabout from Biden's earlier attempt to shun MBS. The White House said early in Biden's presidency that the President's interactions with the Saudi leadership would be "counterpart-to-counterpart."
What to watch
Lina Au Akleh, the niece of slain Palestinian-American journalist Shireen Abu Akleh, told CNN's Becky Anderson how her family feels about Biden's regional tour as it continues to grieve.
"This is where Shireen was born … and she was killed here," Abu Akleh said. "So it was very important for us to be able to sit with the President himself, to hear our demands."
Watch the interview here:
Around the region
Some Iranian women are defying their country's state-enforced veil, saying they want to let their hair down and dress freely.
Social media platforms have this week seen a barrage of posts showing Iranian women inside and outside the country taking off their head coverings in public in defiance of the Islamic Republic's strict laws on morality.
Beginning with an activist campaign against Iran's "National Day of Hijab and Chastity," which is observed by the Persian Gulf state every July 12 to promote the veil, the call to do away with the head covering has spread across social media.
More than 120 rights activists signed a statement denouncing Chastity Day, saying that the commemoration is an excuse to "mark the oppression of Iranian women," reported the IranWire news site.
Women in Iran are obliged to cover their hair with a veil, as well as wear loose-fitting garments to hide their body shapes.
Iran's semi-official Fars news agency on Wednesday published photos of women gathering on the streets of Tehran, celebrating Chastity Day in full compliance with the rules.
When the boughs thereof are withered, they shall be broken off: the women come, and set them on fire: for it is a people of no understanding: therefore he that made them will not have mercy on them, and he that formed them will shew them no favour.
Isaiah:27:11
By Nadeen Ebrahim
Photo of the day
The waning gibbous moon rises behind an illuminated children's amusement park in Syria's rebel-held northwestern city of Idlib on July 14.
---