That which is crooked cannot be made straight: and that which is wanting cannot be numbered.Ecclesiastes:1:15Consider the work of God: for who can make that straight, which he hath made crooked?
Ecclesiastes:7:13
This isn't the first time the Bishop of Rome has compared the medical procedure to employing a professional assassin.
By
Jul 4, 2022, 05:03 PM EDT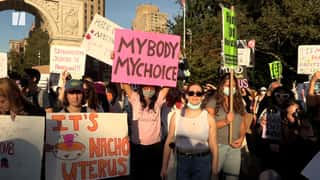 Thus it is that the matter of American imperialism and expansion is inseparably linked with the question of large standing armies. They are Siamese twins, both alike being pregnant with a "manifest destiny" for this Republic; namely, the ruin of free government. PRUS 130.2
Pope Francis is speaking out against abortion again amid the controversial U.S. Supreme Court decision to overturn Roe v. Wade.
During an interview with Reuters published Monday, Francis said he respected the court's decision but could not say whether it was correct "from a judicial point of view."
"I tell you the truth. I don't understand it from a technical point of view," he said, adding, "I have to study it because I don't really understand (the details of) the ruling 50 years ago and now I can't say whether it did right or wrong from a judicial point of view."
. "When ye shall see Jerusalem compassed with armies," said Jesus, "then know that the desolation thereof is nigh. Then let them which are in Judea flee to the mountains; and let them which are in the midst of it depart out." Luke 21:20, 21. After the Romans under Cestius had surrounded the city, they unexpectedly abandoned the siege when everything seemed favorable for an immediate attack. The besieged, despairing of successful resistance, were on the point of surrender, when the Roman general withdrew his forces without the least apparent reason. GC 30.2
The high court struck down Roe v. Wade and Planned Parenthood v. Casey last month, ending decades-old legal precedent that protected abortion rights.
Francis also said it is important to observe what science has learned about abortions in the past few decades.
"In this we have to be scientific, see what science tells us today. Science today and any book on embryology, the one our medical students study, tells you that 30 days after conception there is DNA and the laying out already of all the organs," he said.
The long-suffering of God toward Jerusalem only confirmed the Jews in their stubborn impenitence. In their hatred and cruelty toward the disciples of Jesus they rejected the last offer of mercy. Then God withdrew His protection from them and removed His restraining power from Satan and his angels, and the nation was left to the control of the leader she had chosen. Her children had spurned the grace of Christ, which would have enabled them to subdue their evil impulses, and now these became the conquerors. Satan aroused the fiercest and most debased passions of the soul. Men did not reason; they were beyond reason—controlled by impulse and blind rage. They became satanic in their cruelty. In the family and in the nation, among the highest and the lowest classes alike, there was suspicion, envy, hatred, strife, rebellion, murder. There was no safety anywhere. Friends and kindred betrayed one another. Parents slew their children, and children their parents. The rulers of the people had no power to rule themselves. Uncontrolled passions made them tyrants. The Jews had accepted false testimony to condemn the innocent Son of God. Now false accusations made their own lives uncertain. By their actions they had long been saying: "Cause the Holy One of Israel to cease from before us." Isaiah 30:11. Now their desire was granted. The fear of God no longer disturbed them. Satan was at the head of the nation, and the highest civil and religious authorities were under his sway.
The leaders of the opposing factions at times united to plunder and torture their wretched victims, and again they fell upon each other's forces and slaughtered without mercy. Even the sanctity of the temple could not restrain their horrible ferocity. The worshipers were stricken down before the altar, and the sanctuary was polluted with the bodies of the slain. Yet in their blind and blasphemous presumption the instigators of this hellish work publicly declared that they had no fear that Jerusalem would be destroyed, for it was God's own city. To establish their power more firmly, they bribed false prophets to proclaim, even while Roman legions were besieging the temple, that the people were to wait for deliverance from God. To the last, multitudes held fast to the belief that the Most High would interpose for the defeat of their adversaries. But Israel had spurned the divine protection, and now she had no defense. Unhappy Jerusalem! rent by internal dissensions, the blood of her children slain by one another's hands crimsoning her streets, while alien armies beat down her fortifications and slew her men of war!
All the predictions given by Christ concerning the destruction of Jerusalem were fulfilled to the letter. The Jews experienced the truth of His words of warning: "With what measure ye mete, it shall be measured to you again." Matthew 7:2. GC 28.1 – GC 29.2
Yet many people do not realize they are pregnant at 30 days, and organs such as the heart and primitive circulatory system have not yet begun to form in an embryo.
"I ask: 'Is it licit, is it right, to eliminate a human life to resolve a problem?'" Francis asked in his Reuters interview. "It's a human life – that's science. The moral question is whether it is right to take a human life to solve a problem. Indeed, is it right to hire a hit man to solve a problem?"
During a Vatican-sponsored anti-abortion conference in May 2019, the pope similarly asked: "Is it licit to throw away a life to resolve a problem? Is it licit to hire a hit man to resolve a problem?"
Roman Catholic principles will be taken under the care and protection of the state. This national apostasy will speedily be followed by national ruin.—The Review and Herald, June 15, 1897. LDE 134.2 [48]If we let him thus alone, all men will believe on him: and the Romans shall come and take away both our place and nation. [50]Nor consider that it is expedient for us, that one man should die for the people, and that the whole nation perish not.John:11:48,50
He also claimed that a human being is "never incompatible with life."
In fact, fetal deaths can happen anytime due to problems with the placenta or umbilical cord, infections, birth defects, genetic abnormalities and more.
At the time, Francis said he couldn't condone abortion even when a fetus is critically ill or likely to die, and implored doctors and priests to support families in carrying such pregnancies to term.
This month, the pope dismissed reports that he plans to resign as the 266th pontiff of the Roman Catholic Church.
At this time great perils surrounded the Protestant cause. The anathemas of the pope thundered against Geneva, and mighty nations threatened it with destruction. How was this little city to resist the powerful hierarchy that had so often forced kings and emperors to submission? How could it stand against the armies of the world's great conquerors?
Throughout Christendom, Protestantism was menaced by formidable foes. The first triumphs of the Reformation past, Rome summoned new forces, hoping to accomplish its destruction. At this time the order of the Jesuits was created, the most cruel, unscrupulous, and powerful of all the champions of popery. Cut off from earthly ties and human interests, dead to the claims of natural affection, reason and conscience wholly silenced, they knew no rule, no tie, but that of their order, and no duty but to extend its power. (See Appendix.) The gospel of Christ had enabled its adherents to meet danger and endure suffering, undismayed by cold, hunger, toil, and poverty, to uphold the banner of truth in face of the rack, the dungeon, and the stake. To combat these forces, Jesuitism inspired its followers with a fanaticism that enabled them to endure like dangers, and to oppose to the power of truth all the weapons of deception. There was no crime too great for them to commit, no deception too base for them to practice, no disguise too difficult for them to assume. Vowed to perpetual poverty and humility, it was their studied aim to secure wealth and power, to be devoted to the overthrow of Protestantism, and the re-establishment of the papal supremacy.
When appearing as members of their order, they wore a garb of sanctity, visiting prisons and hospitals, ministering to the sick and the poor, professing to have renounced the world, and bearing the sacred name of Jesus, who went about doing good. But under this blameless exterior the most criminal and deadly purposes were often concealed. It was a fundamental principle of the order that the end justifies the means. By this code, lying, theft, perjury, assassination, were not only pardonable but commendable, when they served the interests of the church. Under various disguises the Jesuits worked their way into offices of state, climbing up to be the counselors of kings, and shaping the policy of nations. They became servants to act as spies upon their masters. They established colleges for the sons of princes and nobles, and schools for the common people; and the children of Protestant parents were drawn into an observance of popish rites. All the outward pomp and display of the Romish worship was brought to bear to confuse the mind and dazzle and captivate the imagination, and thus the liberty for which the fathers had toiled and bled was betrayed by the sons. The Jesuits rapidly spread themselves over Europe, and wherever they went, there followed a revival of popery.
To give them greater power, a bull was issued re-establishing the inquisition. (See Appendix.) Notwithstanding the general abhorrence with which it was regarded, even in Catholic countries, this terrible tribunal was again set up by popish rulers, and atrocities too terrible to bear the light of day were repeated in its secret dungeons. In many countries, thousands upon thousands of the very flower of the nation, the purest and noblest, the most intellectual and highly educated, pious and devoted pastors, industrious and patriotic citizens, brilliant scholars, talented artists, skillful artisans, were slain or forced to flee to other lands.
Such were the means which Rome had invoked to quench the light of the Reformation, to withdraw from men the Bible, and to restore the ignorance and superstition of the Dark Ages. But under God's blessing and the labors of those noble men whom He had raised up to succeed Luther, Protestantism was not overthrown. Not to the favor or arms of princes was it to owe its strength. The smallest countries, the humblest and least powerful nations, became its strongholds. It was little Geneva in the midst of mighty foes plotting her destruction; it was Holland on her sandbanks by the northern sea, wrestling against the tyranny of Spain, then the greatest and most opulent of kingdoms; it was bleak, sterile Sweden, that gained victories for the Reformation GC 234.1 – GC 235.3