The English Reformers, while renouncing the doctrines of Romanism, had retained many of its forms. Thus though the authority and the creed of Rome were rejected, not a few of her customs and ceremonies were incorporated into the worship of the Church of England. It was claimed that these things were not matters of conscience; that though they were not commanded in Scripture, and hence were nonessential, yet not being forbidden, they were not intrinsically evil. Their observance tended to narrow the gulf which separated the reformed churches from Rome, and it was urged that they would promote the acceptance of the Protestant faith by Romanists.
To the conservative and compromising, these arguments seemed conclusive. But there was another class that did not so judge. The fact that these customs "tended to bridge over the chasm between Rome and the Reformation" (Martyn, volume 5, page 22), was in their view a conclusive argument against retaining them. They looked upon them as badges of the slavery from which they had been delivered and to which they had no disposition to return. They reasoned that God has in His word established the regulations governing His worship, and that men are not at liberty to add to these or to detract from them. The very beginning of the great apostasy was in seeking to supplement the authority of God by that of the church. Rome began by enjoining what God had not forbidden, and she ended by forbidding what He had explicitly enjoined.
Many earnestly desired to return to the purity and simplicity which characterized the primitive church. They regarded many of the established customs of the English Church as monuments of idolatry, and they could not in conscience unite in her worship. But the church, being supported by the civil authority, would permit no dissent from her forms. Attendance upon her service was required by law, and unauthorized assemblies for religious worship were prohibited, under penalty of imprisonment, exile, and death. GC 289.1 – GC 290.1
By Leo Sands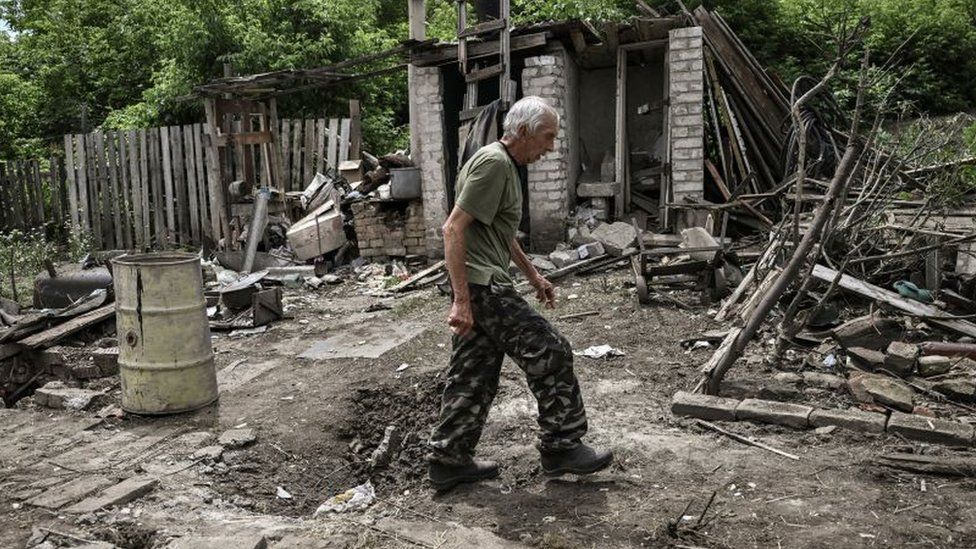 All bridges to the embattled Ukrainian city of Severodonetsk have now been destroyed, the local governor says.
With the city effectively cut off, Serhiy Haidai says delivering supplies and evacuating civilians are now impossible.
Fierce fighting is taking place in the eastern city where Ukrainian officials said Russian artillery had driven its forces out of the centre.
For weeks capturing Severodonetsk has been a top military goal for Russia.
Herein is love, not that we loved God, but that he loved us, and sent his Son to be the propitiation for our sins. 1 John 4:10.
God's love for the world was not manifest because He sent His Son, but because He loved the world He sent His Son into the world that divinity clothed with humanity might touch humanity, while divinity lays hold of divinity. Though sin had produced a gulf between man and his God, a divine benevolence provided a plan to bridge that gulf. And what material did He use? A part of Himself. The brightness of the Father's glory came to a world all seared and marred with the curse, and in His own divine character, in His own divine body, bridged the gulf…. The windows of heaven were opened and the showers of heavenly grace in healing streams came to our benighted world….
Had God given us less we could not have been saved. But He gave to our world so abundantly that it could not be said that He could love us more. Then how foolish is the position taken that there is to be a second probation after the first is exhausted. God has exhausted His benevolence … in pouring out all heaven to man in one great gift. Only in comprehending the value of this offering can we comprehend infinity. O the breadth and height and depth of the love of God! Who of finite beings can comprehend it? …
God claims the whole of the affections of man, the whole heart, the whole soul, the whole mind, the whole strength. He lays claim to all that there is of man, because He has poured out the whole treasure of heaven by giving us His all at once, reserving nothing greater that heaven can do….
When I commence writing on this subject, I go on and on, and try to get beyond the outer edge, but I fail. When we shall reach the mansions above, Jesus will Himself lead the white-robed ones, made white in the blood of the Lamb, to the Father. "Therefore are they before the throne of God, and serve him day and night in his temple: and he that sitteth on the throne shall dwell among them." Revelation 7:15. OHC 12.1 – OHC 12.5
Taking Severodonetsk and the nearby city of Lysychansk would give Moscow control of the entire Luhansk region, much of which is already controlled by Russian-backed separatists.
All three bridges into Severodonetsk were destroyed, Mr Haidai posted on Telegram. Those residents remaining in the city were being forced to survive in "extremely difficult conditions", he added.
Former British soldier Jordan Gatley is among those to have been killed while fighting to defend the city, his family confirmed on Sunday.
Ukraine's President Volodomyr Zelensky described the human cost of the battle for the city as "terrifying". Ukrainian troops, he said, had been fighting Russian forces for "literally every metre".
Reports suggest that about 70% of the city is now under Russian control.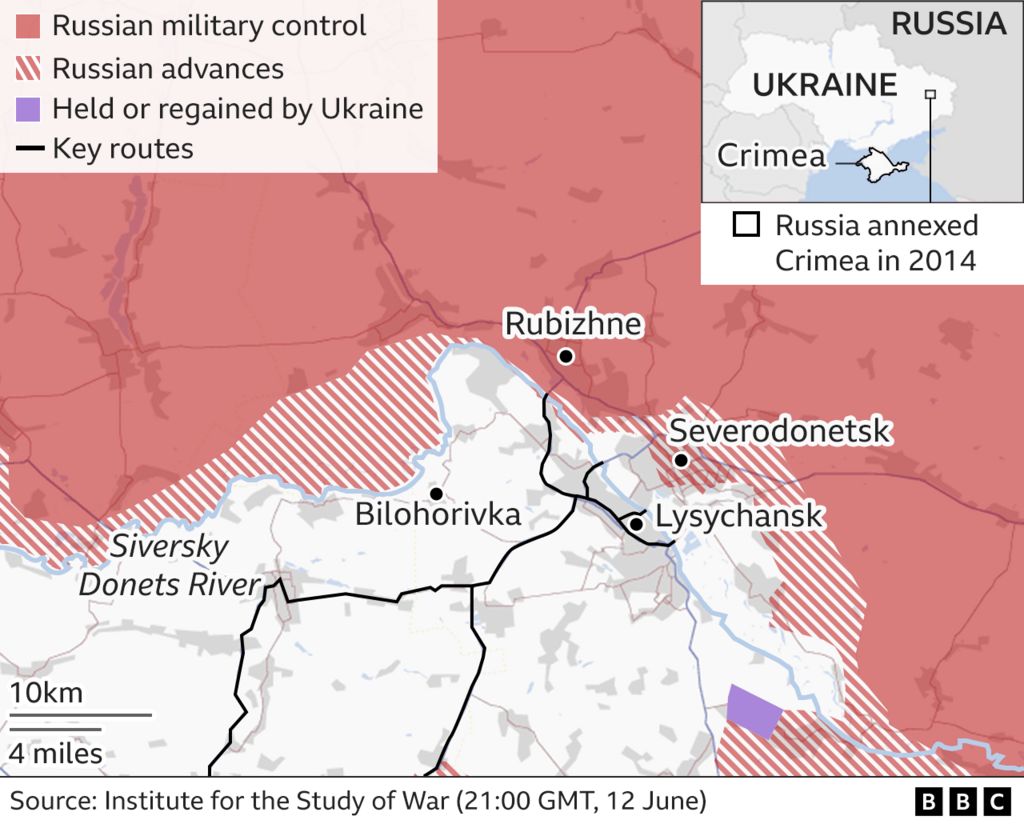 Ukrainian troops remaining in the city must "surrender or die", a military representative of the pro-Russian self-proclaimed Donetsk People's Republic said.
Speaking to media in Donetsk, Eduard Basurin said, "Ukrainian divisions that are there [in Severodonetsk] are there forever."
A top Russian official said Moscow's objective was to protect the self-declared people's republics of Donetsk and Luhansk.
For we have not an high priest which cannot be touched with the feeling of our infirmities; but was in all points tempted like as we are, yet without sin. Hebrews 4:15.
Christ's overcoming and obedience is that of a true human being. In our conclusions, we make many mistakes because of our erroneous views of the human nature of our Lord. When we give to His human nature a power that it is not possible for man to have in his conflicts with Satan, we destroy the completeness of His humanity. His imputed grace and power He gives to all who receive Him by faith.
The obedience of Christ to His Father was the same obedience that is required of man. Man cannot overcome Satan's temptations without divine power to combine with his instrumentality. So with Jesus Christ; He could lay hold of divine power. He came not to our world to give the obedience of a lesser God to a greater, but as a man to obey God's Holy Law, and in this way He is our example. The Lord Jesus came to our world, not to reveal what a God could do, but what a man could do, through faith in God's power to help in every emergency. Man is, through faith, to be a partaker in the divine nature, and to overcome every temptation wherewith he is beset.
The Lord now demands that every son and daughter of Adam, through faith in Jesus Christ, serve Him in human nature which we now have. The Lord Jesus has bridged the gulf that sin has made. He has connected earth with heaven, and finite man with the infinite God. Jesus, the world's Redeemer, could only keep the commandments of God in the same way that humanity can keep them.22
We are not to serve God as if we were not human, but we are to serve Him in the nature we have, that has been redeemed by the Son of God; through the righteousness of Christ we shall stand before God pardoned, and as though we had never sinned.23
The humanity of the Son of God is everything to us. It is the golden chain that binds our souls to Christ, and through Christ to God. OHC 48.1 – OHC 48.6
"In general, the protection of the republics is the main goal of the special military operation," Kremlin spokesperson Dmitry Peskov was quoted as saying by RIA Novosti news agency.
When President Vladimir Putin launched the invasion on 24 February he said Russia's goal was to "demilitarise and de-Nazify Ukraine". Later another objective was added: ensuring Ukraine's neutral status.
Also on Monday, Ukrainian officials said weapons being supplied by the West were not arriving as quickly as they should.
A senior presidential adviser to President Zelensky said that to end the war Ukraine's military needed "heavy weapons parity", posting a list of military hardware he said Kyiv required.
Being straightforward – to end the war we need heavy weapons parity:

1000 howitzers caliber 155 mm;
300 MLRS;
500 tanks;
2000 armored vehicles;
1000 drones.

Contact Group of Defense Ministers meeting is held in #Brussels on June 15. We are waiting for a decision.— Михайло Подоляк (@Podolyak_M) June 13, 2022
The BBC is not responsible for the content of external sites.View original tweet on Twitter
Speaking to the BBC World Service's Newshour, an adviser to the Ukrainian defence minister said troops defending Severodonetsk would have been more effective if heavy weapons had been supplied earlier.
Troops are defending the city "with what we can" but would be "much more efficient at repelling the enemy and liberating Ukrainian land had we received more heavy weaponry by now", Yury Sak said.
He added that Russia's advantage was overwhelming – firing an average of 50,000 rounds a day and creating a "barrage of mortar shells, air bombardment, missile strikes" over Ukraine.
In recent weeks Western countries have committed to sending longer-range weapons to Kyiv, including the UK which for the first time said it would be sending multiple-launch rocket systems to help Ukraine defend itself.
https://emp.bbc.com/emp/SMPj/2.44.15/iframe.htmlMedia caption,
Watch: Lysychansk has been bombarded by Russian artillery

War in Ukraine: More coverage

More on this story
Related Topics
Features
Most Read