Robust disease surveillance, vaccine manufacturing and distribution, and antibiotics management are tools that should be strengthened.
Author of the article:
Publishing date:
Jun 09, 2022 • 3 minute read •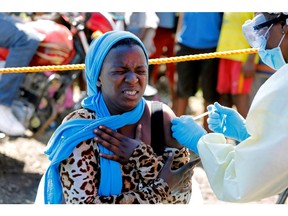 In the early 1970s, Egyptian-American epidemiologist Abdel Omran suggested that human history could be divided into three broad time periods.
Through the two great errors, the immortality of the soul and Sunday sacredness, Satan will bring the people under his deceptions. While the former lays the foundation of spiritualism, the latter creates a bond of sympathy with Rome. The Protestants of the United States will be foremost in stretching their hands across the gulf to grasp the hand of spiritualism; they will reach over the abyss to clasp hands with the Roman power; and under the influence of this threefold union, this country will follow in the steps of Rome in trampling on the rights of conscience GC 588.1
The history of the early church testified to the fulfillment of the Saviour's words. The powers of earth and hell arrayed themselves against Christ in the person of His followers. Paganism foresaw that should the gospel triumph, her temples and altars would be swept away; therefore she summoned her forces to destroy Christianity. The fires of persecution were kindled. Christians were stripped of their possessions and driven from their homes. They "endured a great fight of afflictions." Hebrews 10:32. They "had trial of cruel mockings and scourgings, yea, moreover of bonds and imprisonment." Hebrews 11:36. Great numbers sealed their testimony with their blood. Noble and slave, rich and poor, learned and ignorant, were alike slain without mercy.
These persecutions, beginning under Nero about the time of the martyrdom of Paul, continued with greater or less fury for centuries. Christians were falsely accused of the most dreadful crimes and declared to be the cause of great calamities—famine, pestilence, and earthquake. As they became the objects of popular hatred and suspicion, informers stood ready, for the sake of gain, to betray the innocent. They were condemned as rebels against the empire, as foes of religion, and pests to society. Great numbers were thrown to wild beasts or burned alive in the amphitheaters. Some were crucified; others were covered with the skins of wild animals and thrust into the arena to be torn by dogs. Their punishment was often made the chief entertainment at public fetes. Vast multitudes assembled to enjoy the sight and greeted their dying agonies with laughter and applause.
Wherever they sought refuge, the followers of Christ were hunted like beasts of prey. They were forced to seek concealment in desolate and solitary places. "Destitute, afflicted, tormented; (of whom the world was not worthy:) they wandered in deserts, and in mountains, and in dens and caves of the earth." Verses 37, 38. The catacombs afforded shelter for thousands. Beneath the hills outside the city of Rome, long galleries had been tunneled through earth and rock; the dark and intricate network of passages extended for miles beyond the city walls. In these underground retreats the followers of Christ buried their dead; and here also, when suspected and proscribed, they found a home. When the Life-giver shall awaken those who have fought the good fight, many a martyr for Christ's sake will come forth from those gloomy caverns GC 39.2 – GC 40.2
But there is no union between the Prince of light and the prince of darkness, and there can be no union between their followers. When Christians consented to unite with those who were but half converted from paganism, they entered upon a path which led further and further from the truth. Satan exulted that he had succeeded in deceiving so large a number of the followers of Christ. He then brought his power to bear more fully upon these, and inspired them to persecute those who remained true to God. None understood so well how to oppose the true Christian faith as did those who had once been its defenders; and these apostate Christians, uniting with their half-pagan companions, directed their warfare against the most essential features of the doctrines of Christ.
It required a desperate struggle for those who would be faithful to stand firm against the deceptions and abominations which were disguised in sacerdotal garments and introduced into the church. The Bible was not accepted as the standard of faith. The doctrine of religious freedom was termed heresy, and its upholders were hated and proscribed.
After a long and severe conflict, the faithful few decided to dissolve all union with the apostate church if she still refused to free herself from falsehood and idolatry. They saw that separation was an absolute necessity if they would obey the word of God. They dared not tolerate errors fatal to their own souls, and set an example which would imperil the faith of their children and children's children. To secure peace and unity they were ready to make any concession consistent with fidelity to God; but they felt that even peace would be too dearly purchased at the sacrifice of principle. If unity could be secured only by the compromise of truth and righteousness, then let there be difference, and even war.
Well would it be for the church and the world if the principles that actuated those steadfast souls were revived in the hearts of God's professed people. There is an alarming indifference in regard to the doctrines which are the pillars of the Christian faith. The opinion is gaining ground, that, after all, these are not of vital importance. This degeneracy is strengthening the hands of the agents of Satan, so that false theories and fatal delusions which the faithful in ages past imperiled their lives to resist and expose, are now regarded with favor by thousands who claim to be followers of Christ.
The early Christians were indeed a peculiar people. Their blameless deportment and unswerving faith were a continual reproof that disturbed the sinner's peace. Though few in numbers, without wealth, position, or honorary titles, they were a terror to evildoers wherever their character and doctrines were known. Therefore they were hated by the wicked, even as Abel was hated by the ungodly Cain. For the same reason that Cain slew Abel, did those who sought to throw off the restraint of the Holy Spirit, put to death God's people. It was for the same reason that the Jews rejected and crucified the Saviour—because the purity and holiness of His character was a constant rebuke to their selfishness and corruption. From the days of Christ until now His faithful disciples have excited the hatred and opposition of those who love and follow the ways of sin GC 45.1 – GC 46.2
Last came the Age of Degenerative and "Man-Made" Diseases, the current era of our modern world, when infectious diseases have been so well controlled by vaccines and therapeutics that our advancing age and lifestyles of excess have allowed cancers, diabetes and cardiovascular disease to dominate the public health experience.
As spiritualism more closely imitates the nominal Christianity of the day, it has greater power to deceive and ensnare. Satan himself is converted, after the modern order of things. He will appear in the character of an angel of light. Through the agency of spiritualism, miracles will be wrought, the sick will be healed, and many undeniable wonders will be performed. And as the spirits will profess faith in the Bible, and manifest respect for the institutions of the church, their work will be accepted as a manifestation of divine power.
The line of distinction between professed Christians and the ungodly is now hardly distinguishable. Church members love what the world loves and are ready to join with them, and Satan determines to unite them in one body and thus strengthen his cause by sweeping all into the ranks of spiritualism. Papists, who boast of miracles as a certain sign of the true church, will be readily deceived by this wonder-working power; and Protestants, having cast away the shield of truth, will also be deluded. Papists, Protestants, and worldlings will alike accept the form of godliness without the power, and they will see in this union a grand movement for the conversion of the world and the ushering in of the long-expected millennium.
Through spiritualism, Satan appears as a benefactor of the race, healing the diseases of the people, and professing to present a new and more exalted system of religious faith; but at the same time he works as a destroyer. His temptations are leading multitudes to ruin. Intemperance dethrones reason; sensual indulgence, strife, and bloodshed follow. Satan delights in war, for it excites the worst passions of the soul and then sweeps into eternity its victims steeped in vice and blood. It is his object to incite the nations to war against one another, for he can thus divert the minds of the people from the work of preparation to stand in the day of God.
Satan works through the elements also to garner his harvest of unprepared souls. He has studied the secrets of the laboratories of nature, and he uses all his power to control the elements as far as God allows. When he was suffered to afflict Job, how quickly flocks and herds, servants, houses, children, were swept away, one trouble succeeding another as in a moment. It is God that shields His creatures and hedges them in from the power of the destroyer. But the Christian world have shown contempt for the law of Jehovah; and the Lord will do just what He has declared that He would—He will withdraw His blessings from the earth and remove His protecting care from those who are rebelling against His law and teaching and forcing others to do the same. Satan has control of all whom God does not especially guard. He will favor and prosper some in order to further his own designs, and he will bring trouble upon others and lead men to believe that it is God who is afflicting them. GC 588.2 – GC 589.2
Now, in the wake of the COVID-19 epidemic and news of unprecedented multi-continental outbreaks of monkeypox  — not to mention more than one million annual global deaths caused by drug-resistant bacterial infections — some have begun to wonder if we might not be looking at a new Age of Pandemics, driven in no small part by the silent crisis of antimicrobial resistance. In a 2020 report co-authored by Anthony Fauci, the authors wrote that "evidence suggests that SARS, MERS, and COVID-19 are only the latest examples of a deadly barrage of coming coronavirus and other emergences."
While appearing to the children of men as a great physician who can heal all their maladies, he will bring disease and disaster, until populous cities are reduced to ruin and desolation. Even now he is at work. In accidents and calamities by sea and by land, in great conflagrations, in fierce tornadoes and terrific hailstorms, in tempests, floods, cyclones, tidal waves, and earthquakes, in every place and in a thousand forms, Satan is exercising his power. He sweeps away the ripening harvest, and famine and distress follow. He imparts to the air a deadly taint, and thousands perish by the pestilence. These visitations are to become more and more frequent and disastrous. Destruction will be upon both man and beast. "The earth mourneth and fadeth away," "the haughty people … do languish. The earth also is defiled under the inhabitants thereof; because they have transgressed the laws, changed the ordinance, broken the everlasting covenant." Isaiah 24:4, 5.
And then the great deceiver will persuade men that those who serve God are causing these evils. The class that have provoked the displeasure of Heaven will charge all their troubles upon those whose obedience to God's commandments is a perpetual reproof to transgressors. It will be declared that men are offending God by the violation of the Sunday sabbath; that this sin has brought calamities which will not cease until Sunday observance shall be strictly enforced; and that those who present the claims of the fourth commandment, thus destroying reverence for Sunday, are troublers of the people, preventing their restoration to divine favor and temporal prosperity. Thus the accusation urged of old against the servant of God will be repeated and upon grounds equally well established: "And it came to pass, when Ahab saw Elijah, that Ahab said unto him, Art thou he that troubleth Israel? And he answered, I have not troubled Israel; but thou, and thy father's house, in that ye have forsaken the commandments of the Lord, and thou hast followed Baalim." 1 Kings 18:17, 18. As the wrath of the people shall be excited by false charges, they will pursue a course toward God's ambassadors very similar to that which apostate Israel pursued toward Elijah. GC 589.3 – GC 590.1
There are at least four reasons we are seeing an increase in consequential infectious disease threats. First is a thing epidemiologists call "detection bias," which is when we find more instances of a disease simply because we are looking harder. Since COVID has made us all more sensitive to pandemic threats, it is understandable that the slightest signal offered by a disease the likes of monkeypox would dominate a few news cycles. But news media sensitivity does not always equate to a genuine public health crisis. However, proper disease surveillance can indeed give us proper forewarning of a likely emergency.
STORY CONTINUES BELOW
This advertisement has not loaded yet, but your article continues below.
Amalgamation of Man and Beast Like Noah Time: Read Ezekiel 14 and Mathew 15
Spirit of Prophecy, volume 1, in 1870. The first, in chapter 6, "Crime Before the Flood," is this:
But if there was one sin above another which called for the destruction of the race by the flood, it was the base crime of amalgamation of man and beast which defaced the image of God, and caused confusion everywhere. God purposed to destroy by a flood that powerful, long-lived race that had corrupted their ways before him.—Spiritual Gifts 3:64. Amal 2.1 – Amal 2
Second is our greater global population and shrinking living space. As a species, we are increasingly encroaching into under-explored environmental niches. This is how diseases such as Ebola and Hantavirus entered the human consciousness, from human beings spending more time in unfamiliar habitats. Similarly, our reliance on animal husbandry, most famously in the form of wet markets where unhealthy animals live in close proximity to each other and to humans, is accelerating so-called zoonotic infections, in which diseases jump from non-humans to humans, where they find a vast sea of susceptible naïve hosts.
Third is globalization and its intertwined web of human societies woven tightly across the planet. Globalization has made it such that someone can become infected with a disease in Tokyo and be in New York before the incubation period has barely begun. As well, an outbreak affecting one geographical corner will often be felt acutely by the rest of the world by virtue of nothing more than our unprecedented interdependent economies.
Fourth is climate change, which changes … everything. The changing behaviour of vectors such as mosquitos is causing distributional shifts in diseases such as dengue and malaria; ticks are expanding their habitat, leading to more cases of Lyme disease. Other diseases might be finding new lands as the ecologies they inhabit adapt to changes in agricultural tolerance and its downstream effects on host behaviour and seasonality.
Are christians diseases? Ask Rome. Check us on YouTube for more
What this all means for our civilization is that we must strengthen the institutions tasked with holding these forces at bay: disease surveillance, vaccine manufacturing and distribution, and antibiotics management, to name but a few. We've seen the economic and human impacts that one pandemic can wreak. We would be well advised to invest in preventing another.
Raywat Deonandan is an Epidemiologist and Associate Professor with the Faculty of Health Sciences, University of Ottawa.
Share this article in your social network
LATEST NATIONAL STORIES
Advertisement 1
Ottawa Citizen Headline News
Sign up to receive daily headline news from Ottawa Citizen, a division of Postmedia Network Inc.Email AddressSign Up
By clicking on the sign up button you consent to receive the above newsletter from Postmedia Network Inc. You may unsubscribe any time by clicking on the unsubscribe link at the bottom of our emails. Postmedia Network Inc. | 365 Bloor Street East, Toronto, Ontario, M4W 3L4 | 416-383-2300
TRENDING
THIS WEEK IN FLYERS
COMMENTS
Postmedia is committed to maintaining a lively but civil forum for discussion and encourage all readers to share their views on our articles. Comments may take up to an hour for moderation before appearing on the site. We ask you to keep your comments relevant and respectful. We have enabled email notifications—you will now receive an email if you receive a reply to your comment, there is an update to a comment thread you follow or if a user you follow comments. Visit our Community Guidelines for more information and details on how to adjust your email settings.
Categories
---
Follow Ottawa Citizen
---
Secondary Links
365 Bloor Street East, Toronto, Ontario, M4W 3L4
© 2022 Ottawa Citizen, a division of Postmedia Network Inc. All rights reserved. Unauthorized distribution, transmission or republication strictly prohibited.