Another 13% fear having to endure occasional hunger as the cost of food increases, the survey found
In the last scenes of this earth's history war will rage. There will be pestilence, plague and famine. The waters of the deep will overflow their boundaries. Property and life will be destroyed by fire and flood. We should be preparing for the mansions that Christ has gone to prepare for them that love Him.—Maranatha, 174 (1897). LDE 24.2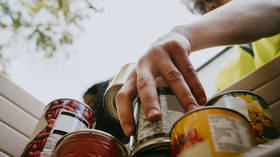 FILE PHOTO © Getty Images / Maskot
Nearly one in six Germans have been forced to skip meals regularly in order to make ends meet, according to a poll conducted earlier this week by the Institute for New Social Answers and published on Friday by the newspaper Bild. Another 13% say they fear such a situation if the increase in food prices continues.
Perhaps unsurprisingly, the hardest hit among poll respondents were low-income households – those with monthly incomes of less than €1,000 ($1,052) – 32% of which have been regularly forced to skip meals for financial reasons.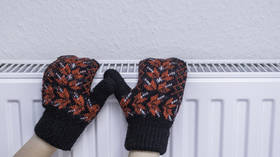 READ MORE Germans warned of 'difficult autumn' and 'tough winter'
A significantly larger portion of poll respondents (42%) said they had been forced to cook more sparingly due to financial hardship, either leaving out certain ingredients from meals or forgoing dessert. Almost as many (41%) reported depending on special offers and discounts from supermarkets in order to get as much value for their money as possible.
The German Association for Social Affairs president Adolf Bauer, who had warned Berlin against joining the proposed EU-wide energy embargo against Russia, told Bild he was "greatly worried" by the results of the survey. He had previously anticipated that efforts to economically punish Moscow would lead to spikes in the price of energy, food and shelter and predicted that those efforts would cause more suffering among ordinary Germans than in Russia.
Verena Bentele, president of the Berlin-based advocacy group Social Association of Germany, said the poll results echoed her organization's own concerns. "Members tell us they can only afford pasta and toast," she told the outlet. She has been pleading with the government to abolish the value-added tax on fresh foods and provide more financial relief for those in need.
The price of both food and fuel in Germany has skyrocketed in recent months due to Western sanctions on Russian coal, oil and gas. This comes as inflation has continued to rise in the wake of the government's economically devastating response to the Covid-19 pandemic. Worse still, thanks to the EU sanctions on Russian and Belarusian fertilizer, the country is expected to miss out on as much as 3 million metric tons of harvest in the coming year.
Satan is working in the atmosphere; he is poisoning the atmosphere, and here we are dependent upon God for our lives—our present and eternal lives. And being in the position that we are, we need to be wide awake, wholly devoted, wholly converted, wholly consecrated to God. But we seem to sit as though we were paralyzed. God of heaven, wake us up!—Selected Messages 2:52 (1890). LDE 26.4
The rest of Europe is suffering under similar conditions, with the EU last year sourcing 4.6 million metric tons of the 13 million it used last year from the two sanctioned nations. A poll published last month found that fully a quarter of those in the UK are also skipping meals due to worsening inflation and the threat of food scarcity.
Famines will increase. Pestilences will sweep away thousands. Dangers are all around us from the powers without and satanic workings within, but the restraining power of God is now being exercised.—Manuscript Releases 19:382 (1897).
I have been shown that the Spirit of the Lord is being withdrawn from the earth. God's keeping power will soon be refused to all who continue to disregard His commandments. The reports of fraudulent transactions, murders, and crimes of every kind are coming to us daily. Iniquity is becoming so common a thing that it no longer shocks the senses as it once did.—Letter 258, 1907. LDE 27.2 – LDE 27.3
Governments around the world have made dire predictions of famine as disruptions caused by Covid-19 shutdowns, inflation, sanctions and naval blockades have prevented Russia and Ukraine, two of the world's largest wheat producers, from harvesting and selling their crops in the usual fashion. While Ukraine has insisted the failure to distribute grain stored in its Black Sea ports is Russia's doing, Moscow has countered that "militants" of Kiev's "nationalist battalions" deliberately set fire to 50,000 tons of grain in Mariupol so as to blame Russia for the subsequent global food crisis.
READ MORE: Grain burned by Ukrainian nationalists – Moscow
Russia attacked the neighboring state in late February, following Ukraine's failure to implement the terms of the Minsk agreements, first signed in 2014, and Moscow's eventual recognition of the Donbass republics of Donetsk and Lugansk. The German- and French-brokered protocols were designed to give the breakaway regions special status within the Ukrainian state.
The Kremlin has since demanded that Ukraine officially declare itself a neutral country that will never join the US-led NATO military bloc. Kiev insists the Russian offensive was completely unprovoked and has denied claims it was planning to retake the two republics by force.
God's Purpose in CalamitiesLDE 27What mean the awful calamities by sea—vessels hurled into eternity without a moment's warning? What mean the accidents by land—fire consuming the riches that men have hoarded, much of which has been accumulated by oppression of the poor? The Lord will not interfere to protect the property of those who transgress His law, break His covenant, and trample upon His Sabbath, accepting in its place a spurious rest day.
The plagues of God are already falling upon the earth, sweeping away the most costly structures as if by a breath of fire from heaven. Will not these judgments bring professing Christians to their senses? God permits them to come that the world may take heed, that sinners may be afraid and tremble before Him.—Manuscript Releases 3:311 (1902).
God has a purpose in permitting these calamities to occur. They are one of His means of calling men and women to their senses. By unusual workings through nature God will express to doubting human agencies that which He clearly reveals in His Word.—Manuscript Releases 19:279 (1902). LDE 27 – LDE 28.2
You can share this story on social media:
The world is not without a ruler. The program of coming events is in the hands of the Lord. The Majesty of heaven has the destiny of nations as well as the concerns of His church in His own charge.—Testimonies for the Church 5:753 (1889).
These symbolical representations the fiery serpents in the wilderness serve a double purpose. From them God's people learn not only that the physical forces of the earth are under the control of the Creator, but also that under His control are the religious movements of the nations. Especially is this true with reference to the enforcement of Sunday observance.—Manuscript Releases 19:281 (1902).
In the great closing work we shall meet with perplexities that we know not how to deal with, but let us not forget that the three great Powers of heaven are working, that a divine hand is on the wheel, and that God will bring His purposes to pass.—Evangelism, 65 (1902).
As the wheel-like complications were under the guidance of the hand beneath the wings of the cherubim, so the complicated play of human events is under divine control. Amidst the strife and tumult of nations, He that sitteth above the cherubim still guides the affairs of the earth. See Ezekiel 1:4, 26; 10:8; Daniel 4:17, 25, 32.—Education, 178 (1903).
In the annals of human history, the growth of nations, the rise and fall of empires, appear as if dependent on the will and prowess of man; the shaping of events seems, to a great degree, to be determined by his power, ambition, or caprice. But in the Word of God the curtain is drawn aside, and we behold, above, behind, and through all the play and counterplay of human interest and power and passions, the agencies of the All-merciful One, silently, patiently working out the counsels of His own will.—Prophets and Kings, 499, 500 (c. 1914). LDE 29.1 – LDE 29.5
Trends:Anti-Russian sanctionsEuropean Union – EUGermanyUkraine turmoil
From Around the World
How Russian troops confronted NATO forces in Yugoslavia, in a significant post-Soviet first FEATURE
The Russian language in post-Soviet Ukraine: 30 years of discrimination against the country's most popular tongue FEATURE
Alexander Nepogodin: What does the future hold for the regions of Ukraine now controlled by Russia? FEATURE
Podcasts
CrossTalk on Russia & Europe: Bitter divorce