5 Apr, 2022 17:06
Russian leader responds to seizure of his country's assets abroad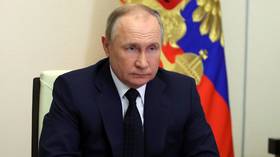 Russian President Vladimir Putin. © Sputnik/Mikhail Klimentyev
The nationalization of assets is a double-edged weapon, Russian President Vladimir Putin has claimed during a government meeting in response to some Western countries proposing to seize his country's property abroad.
Everything in our world is in agitation. "Coming events cast their shadows before." The signs of the times are ominous indeed. There is assurance in nothing that is human or earthly. The winds are held by the four angels, a moment of respite has been graciously given us of God. Every power lent us of God, whether physical, mental, or moral, is to be sacredly cherished to do the work designed us for our fellow men who are perishing in their ignorance. The warning is to go forth to all parts of the world. There must be no delay.
Rapidly are men ranging themselves under the banner they have chosen, restlessly waiting and watching the movements of their leaders. There are those who are watching and waiting and working for our Lord's appearing, while the other party are rapidly falling into line under the generalship of the first great apostate. They look for a god in humanity, and Satan personifies the one they seek. Multitudes will be so deluded (2Thessa2:4,10) through their rejection of truth that they will accept the counterfeit. Humanity is hailed as God. 10LtMs, Lt 55, 1895, par. 18 – 10LtMs, Lt 55, 1895, par. 19
"We're already hearing announcements coming from some officials about the possible nationalization of some of our assets. Well, this can be taken very far. Let no one forget that this is a double-edged weapon," he cautioned on Tuesday.
There is a great work to be done. The last message of mercy is being given to the world. Everything in the political world is being stirred with agitation. There are wars and rumors of wars. The nations are angry, and the time of the dead has come that they should be judged. 15LtMs, Lt 98, 1900, par. 1
Putin noted that the situation in the global energy sphere has significantly worsened as a result of "crude and non-market measures" introduced by foreign partners, including the mounting of pressure on Russia's gas giant Gazprom. Putin accused European nations of trying to "shift the blame for their own mistakes in economy and energy onto Russia."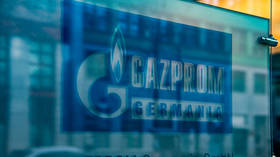 READ MORE: Germany seizes Russian gas company
Last Thursday, the president signed a decree that required countries that have slapped Moscow with sanctions to pay for gas with rubles, in future. The Kremlin has warned that refusing to adapt to this would mean the end of the energy, which, it remarked at the time, it wouldn't be giving away "free of charge." Moscow insists that it was left with no choice but to switch to its national currency, as dollars and euros could be "taken away."
Earlier, on Tuesday, Germany announced that it had taken ownership of a local branch of Russia's Gazprom, saying that it was 'urgently necessary,' while Bloomberg revealed, last week, that the UK government was planning to nationalize the company's local retail arm.
You can share this story on social media:
Trends:Anti-Russian sanctionsRussiaVladimir Putin
From Around the World
Gazprom To Cut Ties With Germany As Energy Relations Sour
China Sold Thailand Submarines That Lack Engines
Germany shuts down darknet platform specializing in drugs
Subscribe to RT newsletter to get news highlights of the day right in your mailboxWe offer you the possibility to receive RT's news highlights every Monday, Wednesday and Friday by email.Subscribe
'In a cage with a tiger': How locals in Taliban's Kabul adapt to the new reality FEATURE
'Modi factor' and AAPheaval: India's election shines a light on country's future FEATURE
Ruling the ice with an iron fist: The story of Russia's first hockey enforcer FEATURE
Podcasts
Deterred deterrence? Pravin Sawhney, former Indian Army officer and editor of FORCE Magazine
0:00
29:51
CrossTalk Bullhorns, HOME EDITION: Looking East
0:00
26:4
© Autonomous Nonprofit Organization "TV-Novosti", 2005–2022. All rights reserved.