12 Mar, 2022 14:26
The 'mindless' handover of weapons to Kiev makes them 'legitimate targets,' Moscow said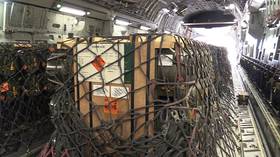 FILE PHOTO: Anti-armor weapon systems supplied by the UK arrive in Kiev, Ukraine, on January 18, 2022. © Getty Images / Anadolu Agency / Ukrainian Defense Ministry
Supplying Ukraine with Western arms only serves to worsen the ongoing conflict between Moscow and Kiev, Russian Deputy Foreign Minister Sergey Ryabkov said on Saturday, warning that Russian forces could potentially target such deliveries.
"We have warned the US that pumping up Ukraine with arms from several nations orchestrated by [Washington] is not just a dangerous move but something that makes these [arms] convoys legitimate targets," Ryabkov told Russia's Channel One. He did not elaborate on where and when Russia might target the convoys.
Ryabkov also warned that the "mindless handover" of "dangerous arms" like portable air-defense and anti-tank missiles poses a threat to Western nations themselves.
Earlier this week, Russia's Foreign Minister Sergey Lavrov also expressed concerns over such weapons getting "into the wrong hands" after the conflict ends. Portable air-defense missiles could pose a particular risk to civil aviation in the skies over Ukraine or Europe for years to come, he added.
READ MORE Germany makes U-turn on sending weapons to Ukraine
On Saturday, Ryabkov said that supplying arms to Ukraine makes Washington's negotiating position weaker in its relations with Moscow. All the US calls for the end of the conflict "are not perceived as serious signals," he said, adding that a "policy of escalation" now "absolutely dominates" Washington's agenda, despite mantras about taking a measured approach.
"It is the US that is the major source of international tension," the deputy foreign minister said, slamming America's "material support for the criminal regime in Kiev." 
The statements come amid Russia's ongoing military offensive in Ukraine.
Moscow has accused Kiev of failing to implement the Minsk agreements to resolve its conflict with what were then two secessionist regions in Donbass, in Ukraine's east.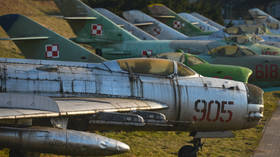 READ MORE Getting military supplies to Ukraine may become harder – US
Russia launched its operation on February 24, arguing it was aimed at "demilitarizing" Ukraine in the name of protecting the people of the Donbass republics, which Russia now recognizes as independent.
Kiev has blasted Russia's operation as a totally unprovoked aggression and approached the US and its allies for aid. President Volodymyr Zelensky has requested military aircraft that Ukrainian pilots can fly, as well as other weapons.
Western nations have collectively condemned Moscow's military action, has slapped Russia with unprecedented sanctions and has promised generous military aid to Ukraine. The US alone authorized a shipment of $350 million in military aid to Ukraine last month. Germany, the Netherlands, Poland and Slovakia also promised weapons to Kiev, including anti-tank missiles and self-propelled howitzers.
Nor consider that it is expedient for us, that one man should die for the people, and that the whole nation perish not.
John:11:50 The world is stirred with the spirit of war. The prophecy of the eleventh chapter of Daniel has nearly reached its complete fulfillment. Soon the scenes of trouble spoken of in the prophecies will take place.—Testimonies for the Church 9:14.
I was shown the inhabitants of the earth in the utmost confusion. War, bloodshed, privation, want, famine, and pestilence were abroad in the land…. My attention was then called from the scene. There seemed to be a little time of peace. Once more the inhabitants of the earth were presented before me; and again everything was in the utmost confusion. Strife, war, and bloodshed, with famine and pestilence, raged everywhere. Other nations were engaged in this war and confusion. War caused famine. Want and bloodshed caused pestilence. And then men's hearts failed them for fear, "and for looking after those things which are coming on the earth."—Testimonies for the Church 1:268. ChS 54.5 – ChS 55.1
In the thirteenth century was established that most terrible of all the engines of the papacy—the Inquisition. The prince of darkness wrought with the leaders of the papal hierarchy. In their secret councils Satan and his angels controlled the minds of evil men, while unseen in the midst stood an angel of God, taking the fearful record of their iniquitous decrees and writing the history of deeds too horrible to appear to human eyes. "Babylon the great" was "drunken with the blood of the saints." The mangled forms of millions of martyrs cried to God for vengeance upon that apostate power.
Popery had become the world's despot. Kings and emperors bowed to the decrees of the Roman pontiff. The destinies of men, both for time and for eternity, seemed under his control. For hundreds of years the doctrines of Rome had been extensively and implicitly received, its rites reverently performed, its festivals generally observed. Its clergy were honored and liberally sustained. Never since has the Roman Church attained to greater dignity, magnificence, or power.
But "the noon of the papacy was the midnight of the world."—J. A. Wylie, The History of Protestantism, b. 1, ch. 4. The Holy Scriptures were almost unknown, not only to the people, but to the priests. Like the Pharisees of old, the papal leaders hated the light which would reveal their sins. God's law, the standard of righteousness, having been removed, they exercised power without limit, and practiced vice without restraint. Fraud, avarice, and profligacy prevailed. Men shrank from no crime by which they could gain wealth or position. The palaces of popes and prelates were scenes of the vilest debauchery. Some of the reigning pontiffs were guilty of crimes so revolting that secular rulers endeavored to depose these dignitaries of the church as monsters too vile to be tolerated. For centuries Europe had made no progress in learning, arts, or civilization. A moral and intellectual paralysis had fallen upon Christendom.
The condition of the world under the Romish power presented a fearful and striking fulfillment of the words of the prophet Hosea: "My people are destroyed for lack of knowledge: because thou hast rejected knowledge, I will also reject thee: … seeing thou hast forgotten the law of thy God, I will also forget thy children." "There is no truth, nor mercy, nor knowledge of God in the land. By swearing, and lying, and killing, and stealing, and committing adultery, they break out, and blood toucheth blood." Hosea 4:6, 1, 2. Such were the results of banishing the word of God GC 59.3 – GC 60.3
From Around the World
Chinese Military Aircraft Now Enter Taiwan Following Ukraine Invasion
Ship Carrying 4,000 Cars Sinks in Atlantic Ocean: Officials
Assume Taiwan Is the Next Ukraine
Subscribe to RT newsletter to get news highlights of the day right in your mailboxWe offer you the possibility to receive RT's news highlights every Monday, Wednesday and Friday by email.Subscribe
Experts tell RT how Russian offensive in Ukraine will end FEATURE
Podcasts
null
null