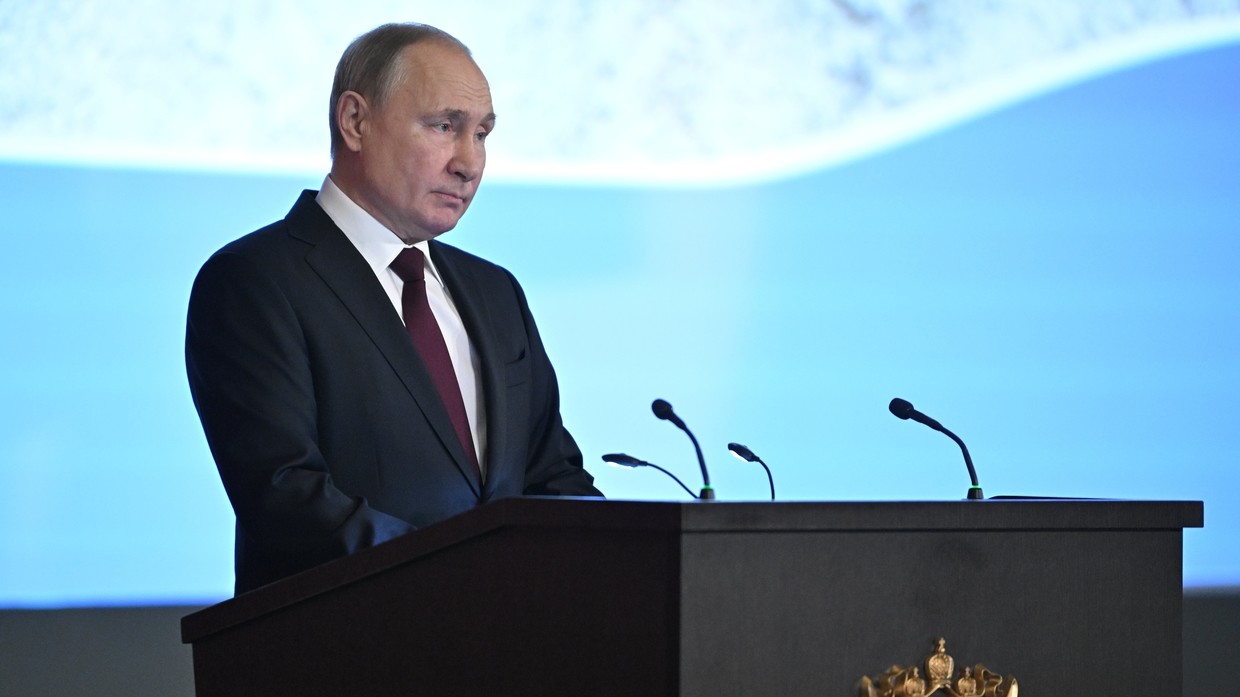 21 Feb, 2022 13:52Join RT on TelegramRussian President Vladimir Putin speaks during an annual extended meeting of the Board of the Russian Interior Ministry, in Moscow, Russia. © Sputnik / Aleksey Nikolskyi
We have come to a time old-time phrases are applied. The terrible times of the dark ages, the times of David and Jesus Christ whom they would not agree with were excommunicated. What and whose spirit is this? Thus were faith Sabbath keepers excommunicated, Elijah being one of them. The spirit comes from the mouth of Pope francis to separate those we don't agree with. It's an age of "war" for everything as the Pope has directed the world to War against those he calls Fundamentalist, extremist.
And Jacob dwelt in the land wherein his father was a stranger, in the land of Canaan.Genesis:37:1, I am a stranger in the earth: hide not thy commandments from me.Psalm:119:19
By Layla Guest Non-citizens who respect the country's values, culture, and laws are still welcome, the Russian president has said
Foreigners in Russia who support terrorist or extremist causes should be immediately booted out of the country, President Vladimir Putin has said after Moscow hinted that it was considering the possibility of giving citizens found guilty of serious violations deportation orders.
Speaking on Thursday at the board of the Ministry of Internal Affairs, the Russian leader set out his stance on how people who have immigrated to his country should be penalized for grave crimes.
According to Putin, everyone who comes to Russia to live, study, and work, while respecting the law of the land, its culture, and traditions, is welcome. "These foreign citizens, and especially our compatriots coming from abroad, should be able to freely and, without bureaucratic delays, arrange all necessary documents," he explained.
"However, illegal migration, the activities of criminal gangs that build their business on this, the toughest measures should be drawn up against these people," he explained.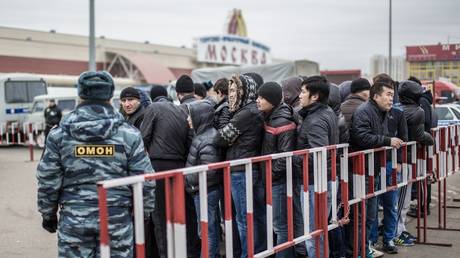 READ MORERussia considers kicking out rowdy foreigners
Putin went on, insisting that "any demonstrations of extremism, violations of law and order, and illegal labor operations [should] serve as grounds for prompt decisions for their deportation from Russia and ban them from entering our country in the future."
Last month, Moscow's Ministry of Internal Affairs said that it was looking into the possibility of kicking out foreigners if they commit severe administrative breaches, including violations of public order.
Tensions have flared between Russians and a new generation of workers from Central Asia in recent years. Last summer, more than 100 people were arrested in the Kuzminki area of the Russian capital after a massive brawl between two groups, mainly migrants, erupted on the streets.
Russia draws a large number of skilled and unskilled workers from former Soviet Republics, such as Uzbekistan and Tajikistan, notably in the service and construction sectors. In December 2020, the Ministry of Internal Affairs estimated that almost half of all migrants living in Russia had left during the Covid-19 pandemic.
In 2016, the high-profile case of an Uzbek nanny, who beheaded a four-year-old girl in her care and paraded the child's severed head on a street in Moscow, shocked the Russian public. Videos of the woman, Gyulchekhra Bobokulova, purported to show her shouting "I am a terrorist." She claimed that the grisly attack was revenge for Russian military operations in Syria. She is said to have been suffering from serious mental health problems and was later deported from the country.Join RT on Telegramhttps://d-27026887462079924939.ampproject.net/2202042210001/frame.html
rt.com© Autonomous Nonprofit Organization "TV-Novosti", 2005–2017. All rights reserved.
Wycliffe began to write and publish tracts against the friars, not, however, seeking so much to enter into dispute with them as to call the minds of the people to the teachings of the Bible and its Author. He declared that the power of pardon or of excommunication is possessed by the pope in no greater degree than by common priests, and that no man can be truly excommunicated unless he has first brought upon himself the condemnation of God. In no more effectual way could he have undertaken the overthrow of that mammoth fabric of spiritual and temporal dominion which the pope had erected and in which the souls and bodies of millions were held captive. GC 84.2
This appeal was rapidly circulated throughout Germany and exerted a powerful influence upon the people. The whole nation was stirred, and multitudes were roused to rally around the standard of reform. Luther's opponents, burning with a desire for revenge, urged the pope to take decisive measures against him. It was decreed that his doctrines should be immediately condemned. Sixty days were granted the Reformer and his adherents, after which, if they did not recant, they were all to be excommunicated.
That was a terrible crisis for the Reformation. For centuries Rome's sentence of excommunication had struck terror to powerful monarchs; it had filled mighty empires with woe and desolation. Those upon whom its condemnation fell were universally regarded with dread and horror; they were cut off from intercourse with their fellows and treated as outlaws, to be hunted to extermination. Luther was not blind to the tempest about to burst upon him; but he stood firm, trusting in Christ to be his support and shield. With a martyr's faith and courage he wrote: "What is about to happen I know not, nor do I care to know…. Let the blow light where it may, I am without fear. Not so much as a leaf falls, without the will of our Father. How much rather will He care for us! It is a light thing to die for the Word, since the Word which was made flesh hath Himself died. If we die with Him, we shall live with Him; and passing through that which He has passed through before us, we shall be where He is and dwell with Him forever."— Ibid., 3d London ed., Walther, 1840, b. 6, ch. 9. GC 141.1 – GC 141.2
When the prelate saw that Luther's reasoning was unanswerable, he lost all self-control, and in a rage cried out: "Retract! or I will send you to Rome, there to appear before the judges commissioned to take cognizance of your cause. I will excommunicate you and all your partisans, and all who shall at any time countenance you, and will cast them out of the church." And he finally declared, in a haughty and angry tone: "Retract, or return no more."—D'Aubigne, London ed., b. 4, ch. 8. GC 136.4
Those who have differed from the established doctrines have been imprisoned, put to torture and to death, because the dignitaries of the church could not endure those who dissented from ideas which these leaders deemed to be true. Satan himself is the sower of tares; but even though he is the sower of them, they are not to be rooted up, lest by chance the wheat be rooted up with them. Let both grow together until the harvest; and the harvest is the end of probationary time. Fiendish zeal has been manifested in excluding dissenters from the fellowship of the church, and passing upon them the sentence of excommunication by which the Roman Church asserted its power of excluding them from all possibility of entering heaven.
How does heaven look upon such things? With what amazement do angels hear men judging and condemning their brethren, causing them most cruel suffering of body and mind, and claiming that they do it under the sanction of God? Instead of being under the leadership of Christ, they are following the leadership of Satan. Paul at one time pursued this course, actually believing that he was doing God service; but Jesus spoke to him, and told him that in persecuting his saints he was persecuting him. All persecution, all force employed to compel conscience, is after Satan's own order; and those who carry out these designs are his agents to execute his hellish purpose. In following Satan's cruel proposals, in becoming his agents, men become the enemies of God and his church, and will be judged in that great day by that man whom God hath ordained; for he hath committed all judgment into the hands of his Son. RH January 10, 1893, par. 9 – RH January 10, 1893, par. 10